Special issue on the occasion of the Chanel exhibition at the ephemeral Grand Palais in Paris.
In this special issue: an imaginary interview with Coco Chanel, the iconic designer, founder of the House Chanel; Lily-Rose Depp, fascinating actress, muse and friend of the House Chanel, is photographed as a glamorous heroine by Jean-Baptiste Mondino.
Also, Marion Cotillard, Oscar-winning star, in the firmament of the 7th art, poses in front of the lens of Boo George; timeless idol, Vanessa Paradis evokes her passion for the theater; The sublime actress Marine Vacth embodies French elegance par excellence for photographer Dominique Issermann; the model Vittoria Ceretti, with her magnetic beauty, inspires photographer Sølve Sundsbø; Bastian Woudt, Elina Kechicheva, Koto Bolofo, Jean-Baptiste Mondino, Mario Palmieri, evoke different facets of Chanel in their series of images.
Numéro Man 43 of spring-summer 2022
The rise of AMI by Alexandre Mattiussi, French fashion label who celebrated its 10th birthday in 2021 ; the new menswear fashion vanguard, from Ludovic de Saint Sernin to Thebe Magugu and Charles Jeffrey ; Italian new pop phenomenon Mahmood, who will represent Italy with Blanco during the next Eurovision Song Contest.
Also, legendary French rapper MC Solaar ; a report on femminielli, third-gender community in Naples here photographed by Pieter Hugo ; Afro-American painter Kehinde Wiley, behind Barack Obama's official portrait who gave him international recognition ; and fashion shoots by Horst Diekgerdes, Jacob Sutton, Jean-Baptiste Mondino, Jackie Nickerson and Pierre-Ange Carlotti.
Numéro 236 of february 2023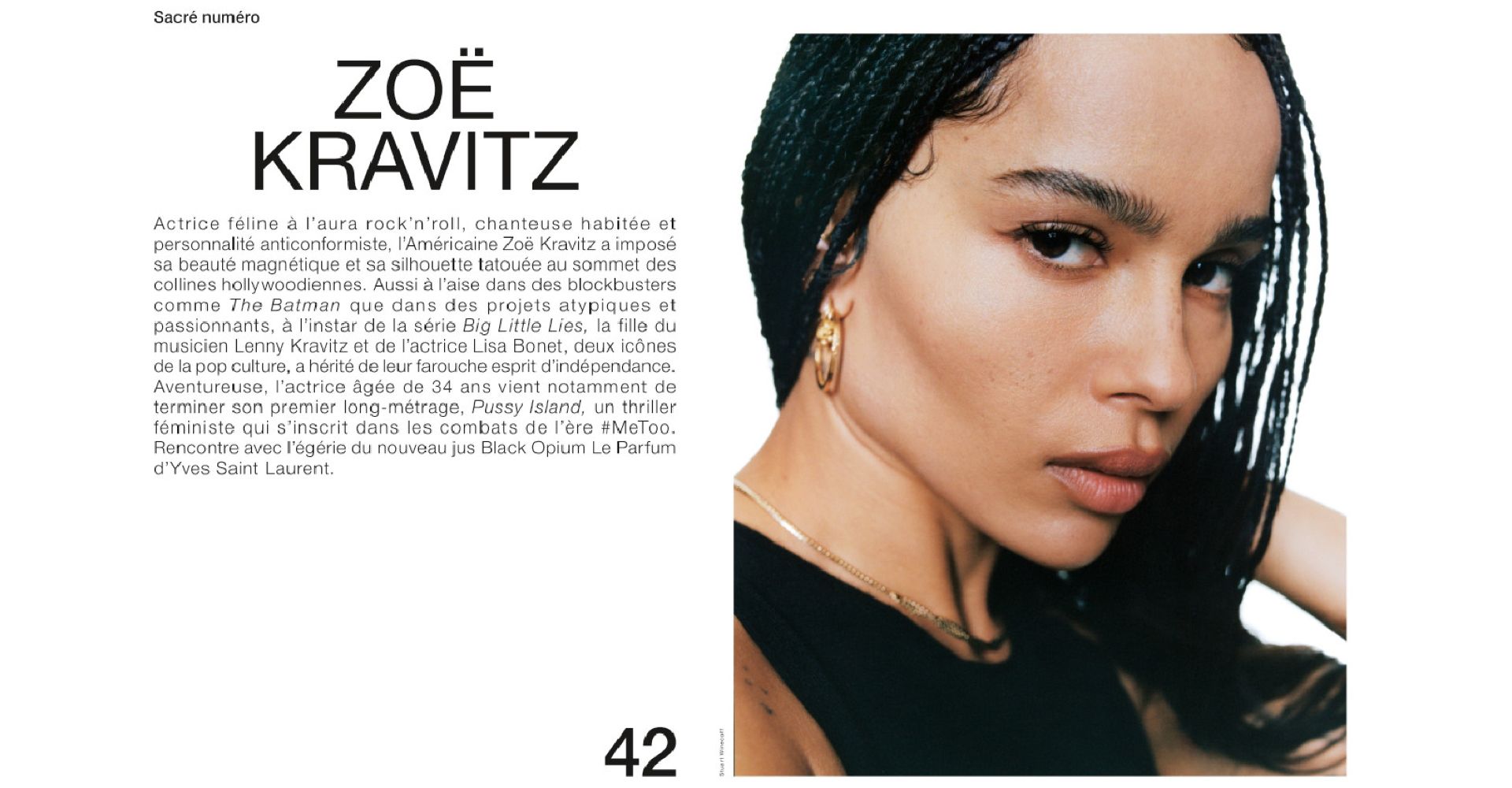 In this Numéro 236 : an interview with Zoë Kravitz, the magnetic American actress and singer who has directed her first feature film Pussy Island; an interview with Rami Malek, the actor brought to light by the series Mr. Robot and his masterful performance as Freddie Mercury in the biopic Bohemian Rhapsody; a portrait of Daniela Lalita, the fascinating and mysterious musical revelation at the heart of an exclusive fashion series by Colin Solal Cardo; a portfolio of the great photographer Sarah Moon, whose work is currently exhibited in Andorra; the young label Ester Manas, known for its designs sublimating all body types.
Also, two films having cinema as their main focus – The Fabelsman, Steven Spielberg's autobiography in disguise, and Damien Chazelle's sulphureous Babylon, a journey into the ruthless world of Hollywood; a dive into the whimsical and colorful universe of artist Yayoi Kusama, who unveils her new collaboration with Louis Vuitton; the meaning of transcendent fashion according to Jean-Baptiste Mondino and Babeth Djian; and fashion series by Txema Yeste, Jacob Sutton, Sofia Sanchez & Mauro Mongiello, Bruno + Nico Van Mossevelde, Terez Mundilova and Anthony Arquier.